Posted in
Movies
with tags
Dinesh Vijan
,
Happy Ending
,
Ileana D'Cruz
,
Illuminati Films
,
Krishna DK
,
Raj Nidimoru
,
Saif
,
Saif Ali Khan
,
Tinder
on November 27, 2014 by saifalikhanonline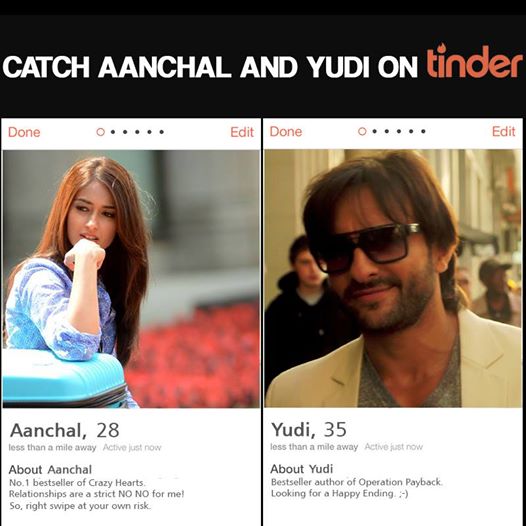 In the new Bollywood film Happy Ending, Yudi (played by actor Saif Ali Khan) suffers from commitment phobia. He is constantly on a lookout for casual dating—and he gets plenty of opportunities.
Complementing Yudi's character is Aanchal (portrayed by Ileana D'Cruz), a writer of romance novels, who ironically shuns serious relationships.
It is their commitment-phobic attitude that made the use of Tinder a perfect match for the movie's promotions.
Three days before the movie's release on Nov. 21, their profiles were created on Tinder.
Happy Ending's marketing team decided to capitalise on Tinder's growing popularity in India. The location-based dating app made inroads into the country a year ago, and is a big hit among legions of urban youngsters.
A spokesperson said that Tinder helped the audience in "relating with the movie's protagonists"—even before the film released.
Bollywood is increasingly coming up with out-of-box ideas to go beyond Twitter and Facebook for film promotions. Bollywood stars are taking a shine to another digital platform—YouTube.