Saif Ali Khan, Shahid Kapoor and Kangana Ranaut to follow Vishal Bharadwaj's no-phone policy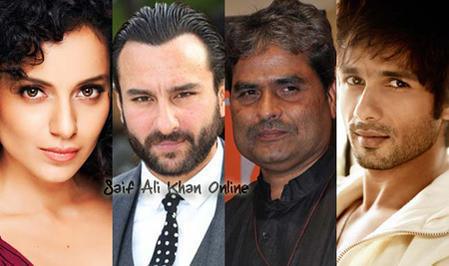 Vishal Bharadwaj's next offering Rangoon is currently being shot in Mumbai. The film, which stars Saif Ali Khan, Shahid Kapoor and Kangana Ranaut in lead roles, is in the last leg of its schedule. Except for Kangana, the other actors have worked with Vishal in the past and have a certain understanding of how he functions and respect it. So while there are rules about crewmembers not being allowed to carry their cellphones on the sets, there are also other unspoken rules on Vishal's sets for the lead actors.
A source told us, "Actors often return to the chair close to the monitor to check their phones in between shots. They constantly keep a tab on their phones and sometimes do not realise that the director may want to keep you more informed about the character. However Saif, Shahid and Kangana are all ears for Vishal." The three generally leave their phones behind in their respective vanity vans before coming to the sets.
Rangoon is a period drama set during World War II in the 1940s. A source reveals, "The characters in Rangoon are very complex and the actors need constant updates from Vishal on how to make things better. They discuss the scenes and their performances, in between shots, which is an exercise towards making the final product better. Vishal gives a lot of inputs during the scenes and they all are very attentive through the talks. They honour Vishal's instructions."