It's a wrap for Vishal Bhardwaj's 'Rangoon' starring Shahid Kapoor, Saif Ali Khan and Kangana Ranaut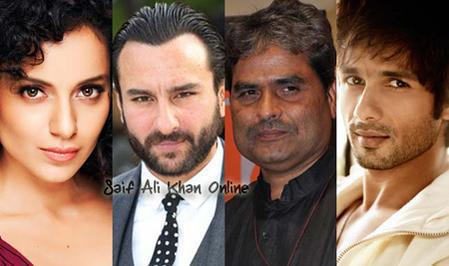 The shooting of Vishal Bhardwaj's 'Rangoon' starring Shahid Kapoor, Saif Ali Khan and Kangana Ranaut has finally come to an end."Vishal's wife Rekha took to her social media account and expressed her happiness over the same. She wrote, "Finally it's a WRAP for Rangoon film's shooting today #Vishal Bhardwaj @WardaNadiadwala @NGEMovies. Party time."
Later in the evening, Vishal along with Rekha, Kangana, producer Sajid and wife Wardha gathered to celebrate Rangoon's successful completion together. However, Saif and Shahid were conspicuous by their absence.
Recently, there were rumours that Saif and Shahid share cold vibes, but Kareena set the record straight by commenting, "Really? In fact, I think they are getting along too well! I haven't gone to the sets because I haven't had the time. I have been travelling and they have been having very hectic schedules at night. Saif comes and tells me what fun they have been having on the sets. He quite enjoys chatting with Shahid and finds him a really nice guy. I don't know why they shouldn't be getting along."
'Rangoon' directed by Vishal Bhardwaj, is a classic tale that is set against the backdrop of World War II. The director who wanted to work on this subject since eight years now, promises that the film will have the musical charm of Moulin Rouge, the romance of Casablanca and the intensity of Saving Private Ryan.
In this love triangle, we'll see Saif playing the character of a filmmaker, Kangana as an actress from the 40s and Shahid playing the role of an army officer. The makers of 'Rangoon' plan on releasing the film around October next year. The film is being produced by Sajid Nadiawala.