Are Saif Ali Khan & Shahid Kapoor relieved that Rangoon is delayed?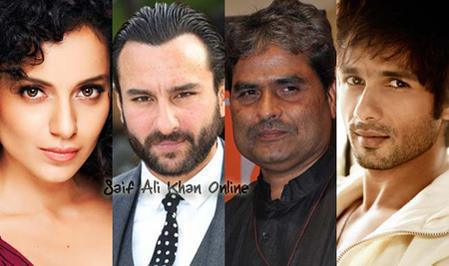 Vishal Bhardwaj's Rangoon was initially supposed to release on September 30, this year. However, the film's outing was later postponed by two weeks, to October 14.
Further delays followed and the latest is, the love story set during World War II will hit the screens on February 2017.
Though the delays made the male leads — Saif Ali Khan and Shahid Kapoor — a bit impatient initially, they now consider it to be a BIG blessing in disguise. Reason: They'll get to spend quality time with their pregnant wives, Kareena Kapoor and Mira Rajput, respectively.
You see, Sasha and Mira are expecting their first baby in September. If Rangoon had been releasing on September 30 or October 14, the Haider actor would have had to leave his wife's side soon after her delivery.
In Saif's case, an early release would have meant him leaving his Begum alone, during the third trimester of her pregnancy. With Bebo expecting their first baby in December, doting husband Saif wants to be by her side during this crucial phase.
Given the fact that both Saif and Shahid are thorough professionals, they wouldn't have compromised on promoting the movie even if it meant letting their personal lives take the backseat.
Anyway, with Rangoon releasing only next year, the actors are heaving a sigh of release. Apart from personal reasons, the two believe that the delay has worked in favour of the film, as it gave them more time to work on it. Also, it's Shahid's birthday on February 25 and he thinks there's no better way to celebrate than with the release of a much-awaited movie.
Not just these Saif and Shahid, the film's leading lady Kangana Ranaut is also happy over the delay. While talking to a section of the media recently, Vishal said: "When we suggested February 24 as the release date, Kangana was very excited as she is sentimentally attached to February, given the exceptional response to Tanu Weds Manu, which had released in the same period."