First poster out for Saif Ali Khan's Rangoon, movie will be a big competition of 2017, 3 reasons why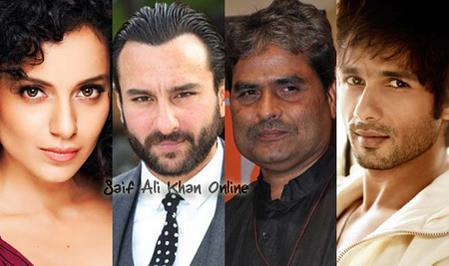 With many powerful stories and different experiments, 2017 will be written with silver pencil in Bollywood. One project that is looked promising due to the involvement of some fantastic actors is 'Rangoon'. The first poster of the flick was released recently, and now we can't wait for its trailer to out soon.
Well, what is making this project a must watch for 2017, here are some reasons.
1) Actors Shahid Kapoor, Kangana Ranaut and Saif Ali Khan are collaborating for the first time. With their charming personalities and powerful acting, the trio will definitely set the silver screen on fire.
2) Vishal Bhardwaj has already given many gems like 'Haider', 'Omkara' and 'Kaminey' to Indian cinema. 'Rangoon' is set in the backdrop of World War II, it will be interesting to see if the filmmaker succeeds to do justice with the story line.
3) Shahid and Saif had previously worked with Vishal but as far as Kangana is concerned, she will be working under his direction for the first time. Vishal made negative role of Saif in 'Omkara', looked good on screen. Whereas, when Shahid's films were not doing well at the box office, Vishal emerged as a saving grace when he offered him 'Kaminey'.
There were rumours of tiff between Kangana and both the actors. In fact, the lady herself said that they didn't go on shoot to make friends. Now, will this affect their camaraderie on screen? Only the time will tell.
More information about movie and characters will be revealed in the trailer that is scheduled to release on January 6. 'Rangoon' will hit the screens on February 24.