My Baby Taimur Looks Like Randhir Kapoor, Says Saif Ali Khan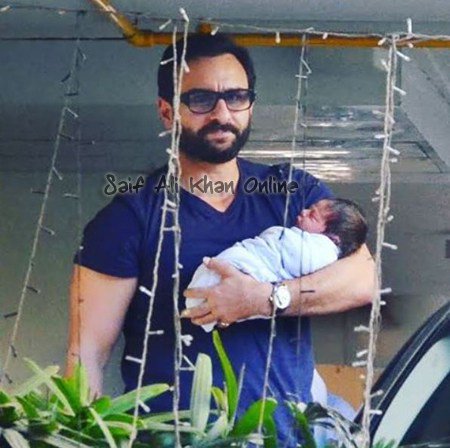 For all those who've making random guesses on who does Kareena Kapoor and Saif Ali Khan's baby Taimur Ali Khan resemble, here is what the Kapoor and Khan families feel.
Nawab of Pataudi revealed, "My mother (Sharmila Tagore) feels that Taimur looks like Dabooji (as Randhir is fondly called)."
We asked Saif if the two families (Kapoor & Khan) have a different opinion, to which he replied, "No. We all feel that he looks like a Kapoor. But yeah, I think he has my eyes."
You know how it is when a baby arrives in any family. The boy's side feels that the child resembles the father and the girl's side feels that the child resembles the mother.
Till date, the social media has been full of opinions which are on two sides of the fence. Some Twitteratis feel that Taimur looks like Kareena, while some feel that he looks like his Papa.
Ab toh Papa ne final verdict de diya hai that he resembles the most to his Nanaji. We better believe Papa; he is at the closest distance to his newborn son.
Taimur, born on December 20 last year, is one baby who has broken the Internet. He is clearly one of the highest searched persons on Google.
The planets are in his favour, and two noted astrologers Bejan Daruwalla and Sanjay B Jumaani had even stuck their neck out to say that this Sagittarian will rule Bollywood.
Jumaani had told us, "If I had been asked that which is the best possible date to deliver so that one's baby can make a great mark in B-town, I would have recommended December 20, 2016. A No 2, Moon governs him (Taimur) along with 3, Jupiter, the biggest, planet of wealth. Hence, he's destined to be in Bollywood!
Daruwalla had said, "Taimur is born on a 20th, so he is a No.2 which is a very lucky number in Bollywood. If you add a 0 (zero) to it, it's power only multiplies.Taimur's Saggi characteristics will only accentuate his stardom. He has a horse and an archer in his sun sign."