Here's why Saif Ali Khan and Nawazuddin Siddiqui are shooting separately for 'Sacred Games'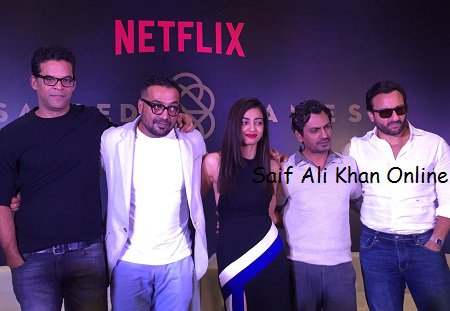 Parallel shoots of Sacred Games on in city, Motwane directs Khan's portions, Kashyap takes charge of Siddiqui's parts
India's first homegrown Netflix original Sacred Games piqued audience curiosity, ever since the project was announced.
While the adaptation of Vikram Chandra's Sacred Games was reason enough to rejoice, the coming together of some of the best names in the industry — Saif Ali Khan, Nawazuddin Siddiqui, Anurag Kashyap and Vikramaditya Motwane — was another draw.
With the project having gone on floors earlier this month, mid-day has now learnt that Kashyap and Motwane have split directorial duties. Instead of jointly calling the shots on a set (Motwane is credited as show-runner, Kashyap as director), the two are conducting separate shoots on different locations around Mumbai.
A unit hand informs, "Vikramaditya is directing the portions that feature Saif and Radhika [Apte], while Anurag and Nawaz are shooting separately."
One wonders if this unconventional shooting pattern hints at a possible conflict between the two directors, but the source insists the move was premeditated.
"It was always supposed to be this way. Nawaz shares a better equation with Anurag and naturally, the latter will be able to extract better performance from him. Saif and Vikramaditya have never worked together, so they will explore their creative energies," adds the source.
The move also helps to save on time and hence, budget. The show is tentatively scheduled to be streamed by the end of this year.
In an earlier interview, Kashyap had told mid-day, "The two of us are directing all the eight episodes together. This is logistically possible because our vision is entirely similar."
However, the source adds that the two units will combine post September 15, to shoot the pivotal scenes that feature Khan and Siddiqui together. "It has already been decided between Anurag and Vikramaditya that the latter will be taking charge of those scenes."
Besides being excited about the challenge of creating India's first Netflix original, Motwane is also keen to explore the eight-hour format that the platform provides.
"Across the globe, the six-hour or eight-hour formats are gaining popularity. I also prefer to tell my stories in long formats. So, it will be interesting to take up this challenge."
The show sees Khan playing the role of cop Sartaj Singh and Siddiqui portraying gangster Ganesh Gaitonde.