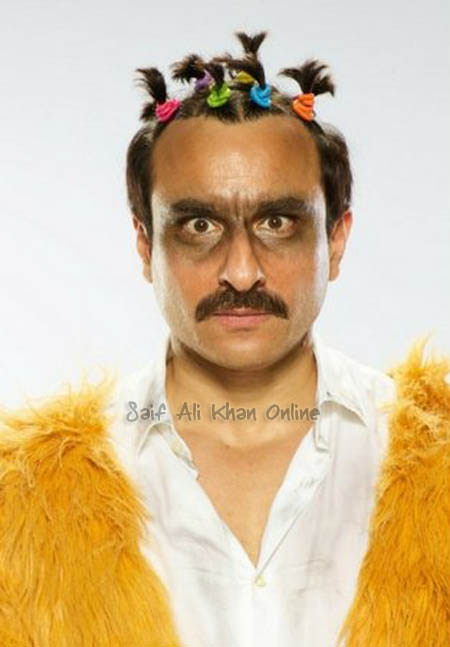 In a casual mood, the scion of the house of Pataudi sat down to speak to reporters about his attempts to change, the world of Kaalakaandi, and why he stays away from the digital world.
Staying calm must come easy to those working under the spotlight. As Saif Ali Khan walks in for an interview in the vast expanse of the JW Marriott in Juhu, it is easy to forget that the actor has spent the best part of the day interacting with journalists answering questions on loop. Despite that, he remains unflustered as he takes on another session to talk about his role in Akshat Verma's upcoming directorial debut Kaalakaandi.
Khan has given up his usual suave, sober appeal to play a man going all out in the dark comedy set in Mumbai. With Verma providing the biting satire and comical lines, Khan's wackiness is the highlight of a very oddball film, a quality he displayed with elan at the interaction.
"There have been so many things in the past," he said of the craziest things he had done, "now I just want to try and keep quiet." This did not, however, stop him from confessing that he had ended up in the fountain outside the hotel lobby on a couple of occasions.
Last year was a mixed one for Khan. While the period drama Rangoon failed to work at the box office, Chef, a remake of the 2014 Hollywood cult hit of the same name, managed to earn the actor some good reviews.
With Kaalakaandi, Khan is now looking to push the boundaries and return to the form of Omkara (2006) and Being Cyrus (2006), two films which cemented his place as an actor. Excerpts from the interview:
Ever since the trailer came out, the film looks like it is in the same zone as Being Cyrus. However, you had stated that it is a very different film. Can you elaborate on that?
I just think Kaalakaandi is a proper international, sensible, funny, engaging movie. It doesn't fit the typical 'Bollywood' potboiler zone. I think it is a very satisfying film. When you see it you feel that it has got something for everyone. That sounds like I am trying to sell it (laughs).
At least for me, it is a really entertaining movie. It makes you laugh, makes you cry a little. It is a film that comes out of a very relatable India. I am proud.
Akshat Verma said he wants to make different films coming out of India. It is not necessary that you only make a certain kind of movie. There are very different films being made.
What I like about this is that it has got a little drama, a little action. It is not a quiet movie.
How do you describe the title, Kaalakaandi?
You know, first the title was Kaalagaandi and we said, 'What does that mean?' People said it means problem. No, it does not mean problem, it means 'black bum'. So they said, 'OK, we have to change that!' So they made it Kaalakaandi. That's how it changed.
Akshat said it is his estate agent who would often say, 'Sir, sorry, aaj kaalakaandi ho gaya [Everything is messed up today].' That's how he got the idea.
Was it the black humour that attracted you to the film?
No, I just liked the story. I like the way how all the stories connect. Crazy things happen in one night. It is a fun thing to do, you know. I am really happy I did it. People will enjoy this film.
The film was shot at night. Tell us a bit about the shooting process.
It is annoying to do films at night. The system goes crazy. You have to be awake at night and sleep in the day. Luckily, it wasn't too long.
I loved shooting in areas that are real though. Like Bandra, Juhu. It reminds me of my own life. I relate more when I see people shooting less on set and shooting more on live locations. A lot of Sacred Games [the Netflix series in which Khan plays a starring role] was shot without lights as well. Bombay is very cinematic, and you don't need so much equipment to make it look amazing.
While you are now the nawab of Pataudi, it looks like the Jat from Pataudi has awakened in the trailers.
As long as it is the Jat with the lighter J. As long as it is pronounced right (laughs). I played a Jat in Omkara as well. This is just a similar sounding character, you know.
I think part of growing up in Pataudi and Bhopal is to be in touch with people. People are very different in cities. Bombay is like a potboiler. People come here from everywhere.
This country is quite different, in the farms, in the villages. I am quite aware of that as well.
I don't take being a nawab very seriously, apart from looking after my family home and other things. I would rather be an actor than a nawab any day.
This year will see a lot of films clashing at the box office. Your film is opening with Mukkabaaz. What do you think of it?
There are so many films being made. I think finding dates has become a big thing. I have only had one film in my career which was released on a holiday. I wish I had more holiday releases. But they are all taken usually by other films. Race 2 was released on a holiday, and we had a Rs12-13 crore opening. It helps. Release dates are very important.
There was some delay before you agreed to come on board for the film. Any reason?
I don't know. At that time it wasn't something I was looking at. And nobody picked it up. It had been around for two years. Vishal Bhardwaj said, "You should read it. You will like it." I read it. I did like it. So, I did it.
What did you find most challenging in the role?
Well, it is about a guy who is boring, and he has never done anything wrong in his life. That was quite challenging.
There is also a part about how he takes a drug and goes crazy. To do that properly, and not stupidly, was quite challenging.
You talked about Vishal Bhardwaj suggesting this script. Is there any other script of his you are looking at, after Rangoon?
Yes, of course. Why not? He is a great director. Some of Vishalji's ideas I love. Some I don't love so much. If there is anything I love, I would do it.
What's the craziest thing you have done?
There have been so many things in the past. Now, I just want to try and keep quiet, and be well-behaved.
I think I have ended up in the Oberoi fountain a couple of times. In my youth. In the lobby (laughs).
You have been considered a bankable actor for the longest time….
By whom? Some Martian? That can be very stupid if they think of it.
Do you still feel you hold that position?
No. You are saying that. I don't think I am.
Why not?
It is obvious why not. Films have to run at a certain level at the box office.
Are you doing something different to change it?
Yeah. I think so. I think the biggest trick is to not take it personally. The first thought would be that maybe people don't like you. But it's not that. I don't think I am so important that people would say I don't like Saif. You have to do the film that they have to say wow. It is the trailer they have to like. They have to like the world of the film. That is always challenging for me because, maybe, I have slightly niche tastes. The things that are exciting for me, for the filmmakers I like, may not be the most popular choices. Sometimes they are.
Inside commercial cinema to find challenging things is the answer. I think Baazaar is a more commercial film than Kaalakaandi.
Many directors and actors say they avoid reading reviews saying everyone is a critic. Do you agree?
No, I think reviews matter. I like to read reviews, and if there is something negative… Sometimes, if I have worked slightly hard also, reviewers like me. For Rangoon, I got really good reviews. I think my acting changed last year.
People said after Omkara I have done some really good work in Chef. I have had good reviews. That also doesn't matter.
The bad reviews, you try and understand what they mean. In Phantom (2015), I had some bad reviews saying I was very wooden. Maybe because I was trying to play this character very seriously, but I forgot to give it any life. These things happen.
I learnt from the reviews.
Do you feel that marketing is a big thing in today's times? Chef got good reviews and praise, but sadly was not a hit at the box office.
Absolutely. I think marketing is the main thing. It costs a lot of money to market films. So people think if the actor runs around and goes on TV shows, you can save money on publicity if the actor does it. But people are not interested in my opinion.
People want to see the trailer. They want to see the poster. They want to sample the merchandise. They want to feel whether they want to see the film.
And marketing is huge. Most people don't understand it. They do the same thing for every film. You are doing the same questions, we are doing the same answer, and the same set-up is happening.
People will read this and realize he is trying to sell the movie. Whether they want to see the film is not related to this interview. This is to make the producer feel good that we are doing something.
Have you watched any Hindi films? Which was the last one you saw?
Yeah. The last one I saw was Dangal (2016). I don't watch every film. I think Baahubali and Dangal are the last two films I've seen.
But I should watch more. I keep thinking I will watch first day, first show. I really want to.
Honestly, I have done a lot of work last year. My way of dealing with these films not running is to just keep quiet and just work.
Sacred Games is really tiring, and then there is Baazaar. We also shot Kaalakaandi and parts of Chef last year.
Your last few films did not do well. Did that upset you or add to the pressure on you?
No, not really. It is upsetting, but it did not add pressure. That's not the right way to think. It is easy to take that pressure. It is not personal rejection. They [the audience] want to see you in a certain film in a certain way. It is difficult to define what that is.
Do you analyse what went wrong?
To a point, a little bit. For example, in Chef, people would have liked a much more energetic movie. With more cooking, and New York, and more drama. I think Indians like masala and more drama. But a lot of makers want to avoid that, because they want to be different. At that time, you think it is a good idea, but later you realize you should not try and change cinema. You should try and give people what they want.
Sacred Games marks your first venture on the digital medium. You have stayed away from any form of online interaction, even during promotions. Is there a specific reason?
I like to stay in the real world. I am wary of the digital world. You know, people can get lost in this thing. People are losing the art of conversation. The importance of whether people like what you are doing can be a little dangerous.
Also, I find things like Instagram would be me showing off, you know. What would I do? This is my house. This is my horse in Pataudi. This is my son.
Your son is quite famous though on social media.
Yeah, he is. So far. He is a superstar baby.
The attention is shifting to Sara and Taimur.
Well, attention is something that people give for various reasons. The attention that is earned is of a different quality. The love you have given the baby is very kind so far. Let's see what happens later.
When can we see you and Kareena both together again?
Well, come home some time (laughs).
In a film.
I don't know about that.
Several films have had issues with the CBFC [Central Board of Film Certification] recently, and this one as well. What do you have to say?
Nothing. The film has bad language, it has got a little risqué stuff going on because it is an honest, proper film. So I am happy that even if the censor board said you can't make this film, you are going to have 73 cuts, there is an FCAT [Film Certification Appellate Tribunal] that could see the film is an honest film.
Akshat Verma is not an opportunist who is riding on bad language. They understand that it is a proper movie. So they passed it.
It just created one-week extra work, so it is no problem.
If you have content in the movie, you can make any film. But you have to be careful. On the internet, some of the films they are making, because there is no censorship, it is almost pornographic. You need to be careful in India because someone will abuse the freedom.
What other projects do you have lined up?
There is Baazaar, which is a nice, commercial potboiler. Apart from that, there is Sacred Games, which we have just wrapped up. But the film I am excited about is Navdeep Singh and Aanand L Rai's next, with R Madhavan. I am also working with Nitin Kakkad at some point later on this year.
What kind of genres are you looking at now?
Anything. Changes. Films are quite tiring. If you are doing a heavy-duty action kind of movie then I suppose it would be nice to do a comedy in a better atmosphere.
Ever thought about taking up hosting offers on television? You must be getting a few.
No, not really. I am quite happy doing movies. TV (like Bigg Boss, interjects someone), that is for very special people.
You recently said Ibrahim and other youngsters aspire to be 'Bollywood' stars and not really actors.
I am glad you asked me that because I don't remember mentioning Aarav. I have a great deal of respect for Akshay Kumar, and I don't even know if Aarav wants to join movies. I might only have said Sara, and someone heard Aarav.
I am saying that Sara wants to be an actor and she has my support, obviously. If Ibrahim says he wants to be an actor, I hope it is because of wanting to be an actor, and not the lifestyle of a star or the vibe of a star. If he sees Salman Khan and says 'even I want to be' [like him], it should be for the right reasons. But, as my wife said, even for me it was that first. Only recently it became about acting.